Info updates at an interval of your choice

Everything is accessable from the Task Bar

You choose what you want displayed

Graphically display your Adsense performance

CBMonitor is just $19.95, or an amazing 50% less if you have a valid Clicbank Nickname

Never miss knowing about a sale again, get CBMonitor by ordering below:

To save an additional 50% on your purchase, simply navigate to this page by using the following url:

http://XXXXXXXXXX.bookiebeat.hop.clickbank.net

Replace the XXXXXXXXX with your ClickBank nickname and when you order you will receive a 50% affiliate payment.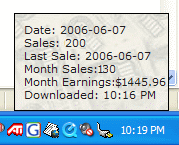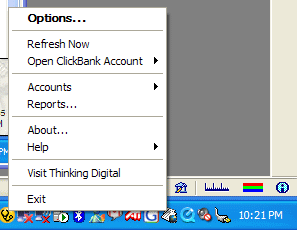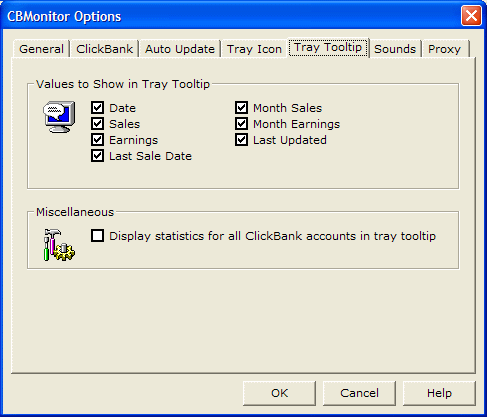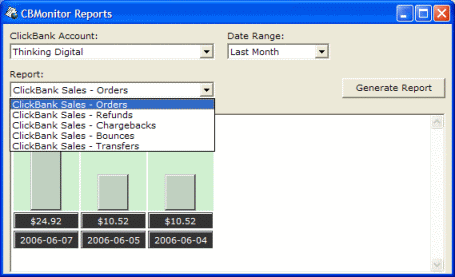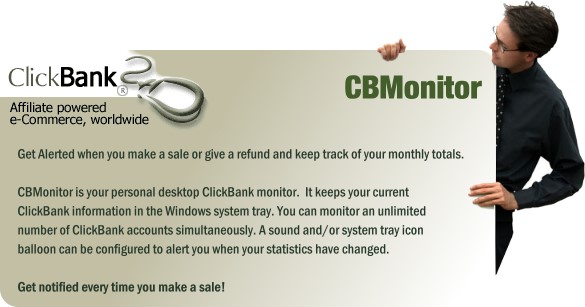 When you roll your mouse over the icon in the system tray, CBMonitor instantly shows you your current Clickbank Account status.

Right Click your mouse and access all of the CBMonitor functions and setup options. You can view several Clickbank accounts, run reports, set options and open your web based Clickbank account without having to navigate to Clickbank and log on.

It is in the Options panel that you can:

Set the Clickbank Accounts that wish to monitor

Set the auto update interval

Change the system tray icon should you wish to

Set alert sounds or balloon anouncements

Input your proxy setting of behind a fire wall


Read below to see what ClickBank Monitor does...



Sponsored Links Thinking Digital Network

Other Sites on the Thinking Digital Network

ClickBank Monitor Benefits

Monitor all ClickBank accounts simultaneously

Sits in system tray, no need to log in

Audio or visual alerts when you make a sale

Graphs to plot your weekly success rate

Auto update at timeframe of your choice

Really cheap when you use your ClickBank Nickname to order

Make Money Online with ClickBank and use CB Monitor  to find out how much instantly!